Join the Club!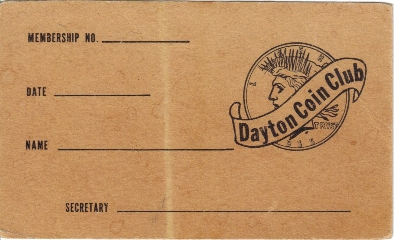 Want to join the Dayton-Kettering Coin Club? We'd love to have you! Dues are only $8 per year; for junior members under 18 years old, it's $3 per year. As a member, you get to:
Hear great speakers talk about really interesting numismatic topics. Recent talks have been on early American quarters, everything you ever wanted to know about Buffalo Nickels, commemorative coins of the United States mint, how auctions really work, and watching out for counterfeits.
Buy and sell coins in the exciting club auction, held every two to three meetings.
See what other members bring in for the monthly show and tell (you never know what will turn up).
Have a chance to win a one ounce silver in the club's monthly raffle.
Get a free Guidebook of United States Coins (the Red Book) every year if you attend nine meetings.
Hang out with other people who share your interest and passion in coins, paper money, tokens, medals, and all things numismatic (that's the best reason to join!).
We have a new permanent meeting site for 2016. Beginning in January of 2016, we'll be at St. Mark's Episcopal Church at 456 Woodman Drive in Dayton.  The meeting continues to be at the same time and date, 7:00 P.M. on the 1st Thursday of the month (except for December).  Come be our guest at our next meeting and join the fun – we'd love to see you.
Our 2017 meeting dates are:
January 5, 2017                               February 2, 2017                                March 2, 2017 
April 6, 2017                                     May 4, 2017                                          June 1, 2017
July 6, 2017                                       August 3, 2017                                    September 7, 2017
October 5, 2017                               November 2, 2017
Club Annual Holiday Dinner December, 2017  TBA