Coin Club Roadshow!
Are you and your club, church, school or other organization looking for an interesting and popular presentation? The Dayton-Kettering Coin Club has you covered!
The Club has a well done 30 minute power point presentation on the history of American coins, moving quickly from the days of Christopher Columbus to the present, with stops at the Revolution, the Civil War, the Great Depression, and the 1960's. Aimed at a general audience of non-collectors, it ties the money in your pocket (and stashed away in that box in the closet) to the great events of our nation's past. We'll also bring examples of historic coins for your group to examine and learn from.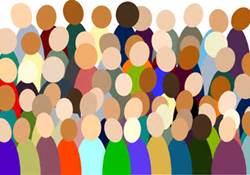 If you have a longer time frame and a bigger audience, we can also do our Coin Club Roadshow. We'll bring several of the clubs experts to look at the coins and other numismatic items your group brings in. We try to give them a quick understanding of what they have, what it might be worth, and how to learn more. A very popular presentation that never fails to draw interest.
If you would like to get us on your schedule, send us an e-mail at daytonketteringcoinclub@gmail.com . We look forward to hearing from you!