Collectors often focus on the traditional ways of "completing" a set of coins or currency. One of every date and mintmark; each year/denomination created at a particular mint; a birth-year set; a type set; etc. etc. etc. Below are some different ways to collect a "set" of coins or currency.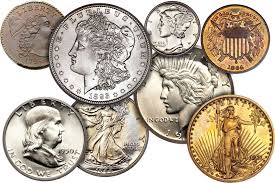 The Three Set includes: Three-Cent Silver, Three-Cent Nickel, Three-Cent Fractional Note, Three-Cent Encased Postage Stamp, and a Three Dollar Gold Piece.
$1 (or $5 or $10) Silver Certificates by Signature or Series Set: for instance, the 1928 Series $1 Silver Certificates, according to "A Guidebook of United States Paper Money", contains 12 different signature combinations (if star notes are included).
Designer Sets: collect one of each coin type by the person who designed the coins. A Christian Golbrecht Set would include a Braided Half Cent, Braided Large Cent, Liberty Seated Half Dime, Dime, Quarter, Half, and Dollar, $2.50 Gold Piece, $5 Gold Piece, and $10 Gold Piece.
1st Year Coined (at a particular mint) Set: a 1st year Denver mint set would include a $5 Gold Liberty (1906), $10 Gold Liberty (1906), $20 Gold Liberty (1906), Barber Dime, Quarter, & Half (1906), Lincoln Cent (1911), $2.50 Gold Indian (1911), Liberty (V) Nickel (1912), and Morgan Dollar (1921).
Ugly Sets: pick a denomination or type and instead of collecting the best coins you can afford, collect the worst/ugliest examples you can find.
Odd Denomination Coin Sets: Half-Cent, Two-Cent, Three-Cent Silver, Three-Cent Nickel, Twenty-Cent Piece, Three Dollar Gold, Four Dollar Gold, etc.
Same Year – Different Style Set: for example the year 1921 saw a Morgan Dollar and a Peace Dollar; in 1883 there was a Shield Nickel, a Liberty Nickel "no cents", and a Liberty Nickel "with cents"; in 1938 the Buffalo Nickel and the Jefferson Nickel were both minted.
You don't have to limit yourself with "standard" collections. Use your imagination and build a unique-to-you set. There's no "right" or "wrong" way to build a personal collection. Have fun and keep collecting!