From 1965 to 1967, the US Mint produced Special Mint Sets (SMS) instead of striking proof sets. SMS were struck without mintmarks so there are no D or S issues.
The 1967 Kennedy Half, the last of the non-mintmarked coins from those series, had the highest mintage of the three years. The three mints produced more than 295 million 1967 Kennedy Halves. They were also the most heavily saved, a result of the Mint's elimination of silver in coins minted beginning in 1971.
The problem was most of the '67 Kennedys that were saved, were pulled from circulation. They were not mint state. When the price of silver reached $49.45 per ounce in 1980, many of the 40% silver Kennedys were melted.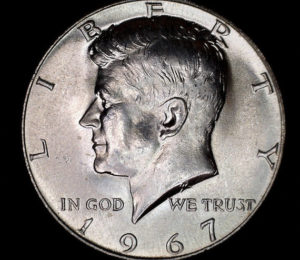 Today, 1967 Kennedy Halves in MS-65 are no longer a common coin. Twenty years ago 1967 Kennedys in MS-65 were valued at $2.25. Today they list for $30. With a low supply, the rise in value may be headed further upward. It may be worth a collector keeping an eye out for MS-65 1967 Kennedy Halves.
As an added note, a 1967 NGC MS-69 Ultra Cameo Kennedy Half sold at a 2016 ANA auction for $19,975, without adding in the buyer's premium.