by DARRIN LEE UNSER on JANUARY 18, 2017
from CoinNews.net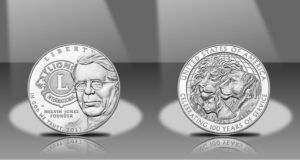 Coins commemorating 100 years of the world's largest service club organization, Lions Clubs International, are now available from the United States Mint.
The Lions Clubs International Century of Service Commemorative Coin Program was authorized under Public Law 112-181, enacted on Oct. 5, 2012, to celebrate the centennial of the establishment of Lions Clubs International.
2017 Lions Club Centennial Silver Dollars in collectible proof and uncirculated finishes and at introductory, discounted prices launched today at noon Eastern Time. Each one sold will benefit the Lions Club International Foundation.
LCI (www.LionsClubs.org) was founded in 1917 by Melvin Jones. Today, the organization has a memberships of over 1.4 million and operates from 46,000-plus clubs throughout the world. Humanitarian projects served by the organization include SightFirst, disability and youth programs.
Silver Dollar Designs
For the silver dollar's obverse or heads side design, 14 candidates competed against each other. Each of them depicted Lions Club Founder Melvin Jones in varying perspectives. The winning design, created by Joel Iskowitz and sculpted by Joseph Menna, shows Jones along with the club's logo.
2017-P Proof Lions Clubs Commemorative Silver Dollar – Obverse (heads side). Obverse inscriptions read LIBERTY, IN GOD WE TRUST, 2017 and MELVIN JONES FOUNDER. The artist's and sculptor's initials are also shown.
 Twenty-one different candidates were presented as possible options for the coin's reverse or tails side. The selected design depicts a male and female lion with a lion cub superimposed over a globe. Patricia Lucas-Morris created the artwork and Don Everhart sculpted it.
2017-P Proof Lions Clubs Commemorative Silver Dollar – Reverse (tails side). Reverse inscriptions include $1, E PLURIBUS UNUM, UNITED STATES OF AMERICA, CELEBRATING 100 YEARS OF SERVICE, and the artist's and sculptor's initials.
 Both coins are produced at the U.S. Mint facility in Philadelphia to a composition of 90% silver and 10% copper, with each having a reeded edge, a diameter of 1.500 inches, and weight of 26.730 grams.
Introductory and Regular Prices
Introductory coin prices of $46.95 for the uncirculated and $47.95 for the proof are available until Feb. 15 when regular pricing begins at $51.95 and $52.95.